Hometown Market
Welcome to the Sturgis Hometown Market Page!   
The City is hosting a Hometown Market to showcase local vendors, crafters, and producers.  
We are located at 1123 Main Street.  We will be open from October 14, 2022 until July 3, 2023. 
Hours:  Fridays 4 PM until 7 PM.  Saturdays 10 AM until 6 PM.  Sundays Noon until 4 PM.  Special hours will be in effect during special events and the holiday season.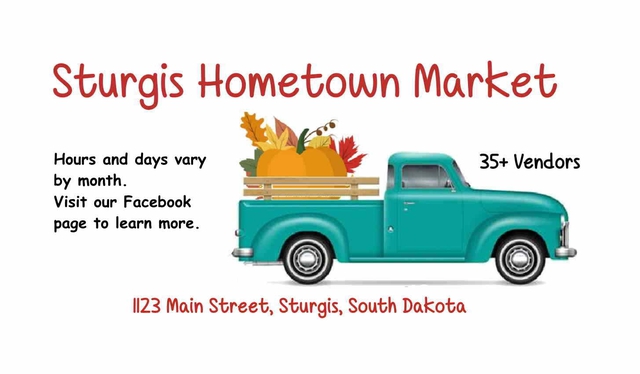 If you are interested in becoming a vendor, please continue reading.
The Market is currently full.  You are invited to submit an online application to be considered if there is a future opening.
VENDORS:  Rental fees for Fall/2022 - Spring 2023 will be $250 for rent plus a $100 deposit to cover early move-outs.
Booth vendors are NOT required to be present during Market hours.  There will be one central point of sale, and a City employee will man this point of sale.

The City provides one 8' table per booth area.  Chairs are not provided.
Electricity is provided.  You will need your own extension cord. 
A South Dakota Sales Tax Number is not required to sell at this market.  The State Dept. of Revenue does require all vendors to file and pay sales tax on all sales each month.  The City will provide the appropriate sales tax forms each month for the purpose of filing and paying these taxes.   For specific questions related to SD Sales Tax requirements, call the Department of Revenue at 394-2332.  Reference the Pricing and Sales Tax Information link for details about pricing, tagging, and taxes. 
Please read the following documents before submitting your application.    Pricing and Sales Tax Information.pdf        Procedures and Rules.pdf    
To apply for a vending booth space, submit an online application.  You will be contacted once your application has been reviewed.  All fees must be paid before a booth is assigned.
For questions, please contact the Rally and Events Department by calling 605-720-0800.

  Follow our Facebook page to stay updated on Market happenings!