REMINDER - If you want to be tested for COVID-19, please submit your application for testing by NOON on Friday, August 14. Appointments for testing must be secured through Monument Health by August 17.
The City of Sturgis is partnering with Monument Health to conduct testing of asymptomatic (not showing signs of illness) residents.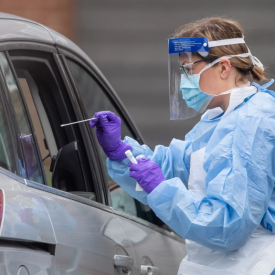 Tests will be conducted August, 24 and 25 in the north parking lot of the Sturgis Community Center. Those residents who would like a test will need to submit an application in advance and provide proof of residency in the form of a SD driver's license, state ID card, or utility bill. These tests are only available for those residing within the Sturgis City limits and who are not experiencing signs of illness (asymptomatic). Residents who do have symptoms of illness should contact Monument Health for recommendations and testing. This initiative is designed to reduce the inadvertent spread of the COVID virus throughout the community by those who are unknowingly infected.
Applications are available for pick up at the Sturgis Finance Office, the Sturgis Library, and the Sturgis Community Center. Residents can also download an application from this website. Completed applications will need to be emailed to COVID@sturgisgov.com or dropped off at the Sturgis Finance Office located at 1040 Harley-Davidson Way during regular business hours. Once an application is received, the Finance Office will mail a voucher to the applicant. The voucher has instructions for scheduling a test. The deadline to schedule a test is August 17. Vouchers must accompany the individual to the test site. Approximately 780 vouchers will be issued. Test results may take up to three days. Monument Health will make notification of all test results by mail, phone, or through the Monument Health patient portal, MyChart. Instructions for getting the MyChart app can be found at this link.
These tests will be paid for by the City of Sturgis through the CARES Act. Residents who are employed as frontline workers may qualify for testing through the employer testing portion of this program. Please check with your employer to see if they are taking part in this program prior to submitting an application as a resident.
More:
Home News