Parks & Cemetery
About the Parks Department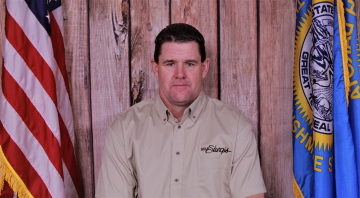 Contact 
Cody King, Parks and Cemetery Superintendent

1057 Dudley Street
Sturgis, SD  57785

Ph: (605) 347-3916
Fx: (605) 347-3516

Hours
Monday - Thursday
6:00 am - 3:00 pm
Friday 6:00 am - 10:00 am
The Parks Department is responsible for all ground and building maintenance for over 100 acres of park and recreation property.

Areas of responsibility include the following: 
Baseball, softball, soccer & tennis facilities
City park and shelters within the park
Lion's Club Park and shelters
Multiple neighborhood parks
Sturgis Fairgrounds
Barry Stadium
City owned property surrounding Ft. Meade
Maintenance of the bike path system within city limits
Maintenance and general management of the Bear Butte Cemetery
Health & Safety is a priority. 
The Parks Department is responsible for the West Nile and Mosquito Control Program and the Forestry Program.  The Parks Department also supports special events and other community activities by maintaining and providing bleachers, fencing and other special request items.
Our Mission 
The mission of the Parks Department is to provide outdoor recreational opportunities for the residents of Sturgis and visitors to our community.  This includes providing land, recreational equipment and facilities that are clean and safe for people of various ages, abilities and interests.

To learn more about our parks and the facilities located in each, click on the Parks page located on the left menu. If you would like to reserve a park shelter please contact the Public Works Office at 605-347- 3916 or make your reservation  on-line  . A rental agreement is required when making a reservation.

Download a pdf of  Park Rules & Regulations  .

Bear Butte Cemetery 

The Parks Department cemetery staff is responsible for all maintenance and daily functions of the  Bear Butte Cemetery  located on the east end of Main and Sherman Streets.

More information about grave sites. 
 Equal opportunity to participate in and benefit from recreational facilities or programs is available to all persons regardless of race, color, national origin, age or handicap.  Complaints alleging discrimination should be sent to the SD Department of Game Fish and Parks, 523 E. Capitol Avenue, Pierre, SD 57501 or the Office for Equal Opportunity, US Department of the Interior, Office of Secretary, Washington DC, 20240.