Resources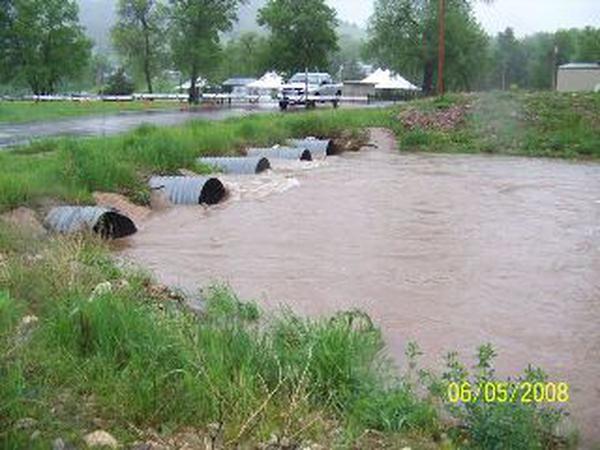 Bear Butte Creek Flow Gauge
Up to date information on the creek flows in Bear Butte Creek near Galena

For more flyers and informational packets, please stop by Sturigs Public Library or contact the Meade County Extension Services (605) 347-2436.

Cleaning and Repairing Flooded Basements Pamphlet
(Created by North Dakota State University Extension Service)

Sandbagging Techniques Pamphlet
(Created by the US Army Corps of Engineers, Northwest Division)

How to Build an Effective Sand Bag Levee video
( Video created by the US Army Corps of Engineers)

How to Use Pumps to Protect Your Property video
Created by the US Army Corps of Engineers

Flood Fight Handbook
Developed by Army Corps of Engineers (St. Paul)
Other Resources
Sand bags can be either plastic or burlap. Unfilled, plastic sandbags can be stored a long time if kept away from sunlight, weather, rodents, etc. Unfilled, sand bags can cost from $0.20 to $0.50+ per sandbag, depending on the supplier. Sandbags can be purchased locally from equipment suppliers or other similar resources. You may also order sandbags on the web from wholesalers and vendors (but you may have to pay for shipping/freight costs).

If you buy an unfilled sandbag, you will also need to purchase sand. Sand can be purchased from local home improvement stores, landscape wholesalers, concrete and materials companies, quarries, etc. Sand is often sold "by the yard" and you may need to haul it in your private vehicle.

Additionally, an alternative to sandbags is to purchase pre-filled "sand tubes" from local home improvement stores or hardware stores. Sand tubes are what are often used in winter to add weight to a vehicle. These multi-purpose tubes can cost between $3.20 and $5.00+, depending on weight and supplier. Sandbags are often used in conjunction with polyethylene plastic sheeting (60 ml), which can be purchased from home improvement stores or from your sandbag supplier.

Finally, we encourage you to call before you go to any store or vendor to ensure they carry the product you are interested in.